Texas Health and Human Services Website
Web Design, Development & Maintenance
ESG & Corporate Communications
Visual & Graphic Design
Accessibility Services
Content Strategy & Development
User Experience Design & Information Architecture
Public Sector / Non-Profit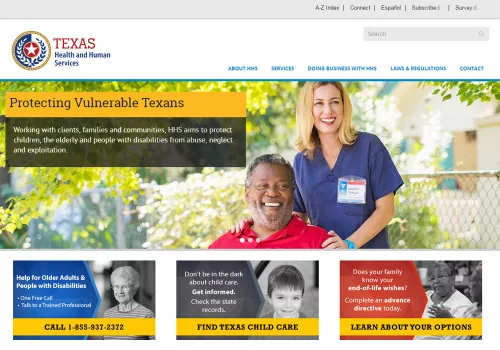 Summary
Faced with a large reorganization and consolidation of multiple agencies, the Texas Health & Human Services Commission (HHSC) engaged BrightLeaf Group to help them strategically plan for and design a new website. This very large project spanned multiple stakeholder agencies and third-party vendors. By dividing the project into smaller, well-defined phases with clear deliverables, BrightLeaf successfully navigated the complexity to facilitate:
Brand and messaging development

Content audit and analysis

New site architecture

Accessible user experience design

New Drupal CMS implementation, which included migrating thousands of content pages
BrightLeaf approached the project planning with such attention to detail that the project required only two minor change orders to adjust for the client undergoing major organizational changes after the RFP and throughout the project.

The result: BrightLeaf delivered a transformational website redesign on time and within budget, helping HHSC meet its goal of making health and human services system delivery more efficient, transparent and effective.

Client Information
Texas Health & Human Services (HHS) now consists of two state agencies: Texas Health & Human Services Commission and Texas Department of State Health Services.
HHS works with clients, families and communities to protect Texas' most vulnerable populations from abuse, neglect and exploitation. HHS' website is an important communications vehicle to inform Texans about its operations, meetings, statistics, finances, and details about its popular and vital programs, such as:
Medicaid
Children's Health Insurance Program
SNAP food benefits
TANF cash assistance