State Office of Administrative Hearings Website
Web Design, Development & Maintenance
Accessibility Services
User Experience Design & Information Architecture
Public Sector / Non-Profit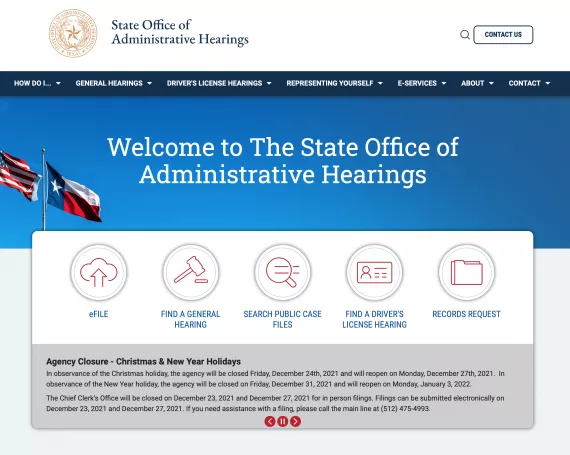 Summary
BrightLeaf redesigned two websites for the State Office of Administrative Hearings ("SOAH"): its external, public-facing website, and its internal website, or intranet. Both redesign projects required BrightLeaf to migrate and remediate existing content and develop new web content, and ensure that all website development, including custom coding, followed industry standards and best practices.
As part of the redesign, SOAH also asked BrightLeaf to covert approximately 300 hundred Adobe documents to meet state accessibility standards, including digital signatures where applicable. SOAH emphasized the importance of the forms being consistent and easily accessible, as staff increasingly relied on the forms with the onset of the COVID-19 pandemic.
The specifications also required that both websites be hosted and managed in a FedRAMP authorized cloud service to meet all state security requirements for hosting, development, data storage and encryption. Design-wise, SOAH needed the sites to be responsive to the user's behavior and environment based on screen size, platform and orientation.
Finally, SOAH needed BrightLeaf to update its State Seal within the first 30 days of the contract.

The Result: The BrightLeaf team successfully met each SOAH requirement, delivering a new user-centric design for both SOAH external and internal websites. BrightLeaf used a CMS with version control for SOAH employees to update web content with secure hosting and management through AWS/ Rackspace/ Google. The sites work with all required browsers, and accommodate all necessary applications, including video and audio. BrightLeaf also successfully completed file review and remediation for accessibility, with over 100 forms and 200 Adobe PDF documents remediated.
Client Information
The State Office of Administrative Hearings, also called SOAH, resolves disputes between Texas agencies, other governmental entities, and private citizens either through an administrative hearing or mediation. The office is separate and independent from the agencies involved in the disputes. The administrative law judges who preside over the disputes are neutral. The specific objectives of the State Office of Administrative Hearings are to:
Conduct fair and objective administrative hearings.
Provide fair, timely and efficient decisions and proposals for decision.
Offer the opportunity for parties to resolve their disputes through mediation (or alternative dispute resolution).