Kitamba/Texas Education Agency Center for School Actions Website
Web Design, Development & Maintenance
Accessibility Services
User Experience Design & Information Architecture
Public Sector / Non-Profit
Summary
Education consulting firm Kitamba brought in BrightLeaf to help them design a new site for the Texas Education Agency Center for School Actions (CSA), develop the site, train the staff on content entry, and provide maintenance and support after launch.
As a series of informational web pages aimed at districts, school operators and support providers, BrightLeaf would need to update then migrate CSA's previous site built on a Weebly platform to a CMS that would conform to TEA's continued maintenance and support needs. The goal was to align the CSA website with the TEA brand, improve accessibility compliance, and support a rebranding of CSA.
BrightLeaf was providing TEA with Drupal design, development and support services and knew the TEA technical and process environment. Our web development team was uniquely prepared to support Kitamba's similar needs, and our strategic planning ensured the most efficient approach to the project.
The Result: BrightLeaf provided guidance on the website redesign using Kitamba's design files and drafted wireframes. We developed the website, ensuring a higher level of accessibility, and implemented a new Drupal CMS. Finally, BrightLeaf trained Kitamba and TEA staff on how to maintain the new site using Drupal CMS. In just four months, BrightLeaf deployed a quality digital product for TEA's continued use and support of its constituency.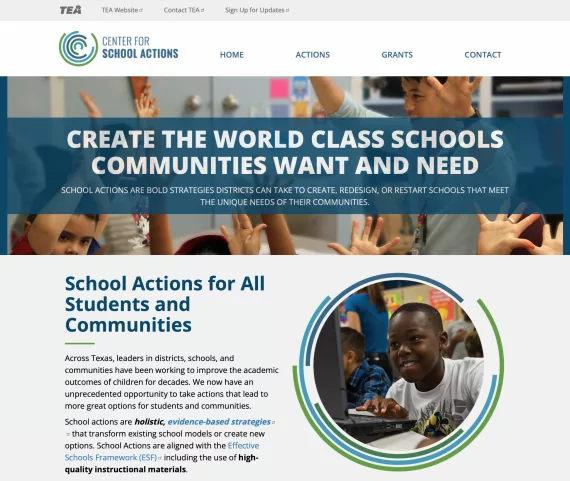 Client Information
Kitamba is a full-service education consulting firm focused on supporting reform-minded districts, superintendents, and educational organizations. Kitamba provides deep policy design and implementation support, product development, and strategic advisory services.
The Texas Education Agency's Center for School Actions connects districts and schools with resources, tools, and guidance, to help plan aspirational, bold, and evidence-based school actions. Their staged learning process is designed to meet all districts where they are, from learning about, to taking bold actions.