CITGO Environmental Social Governance Update
ESG & Corporate Communications
Visual & Graphic Design
Content Strategy & Development
Private Sector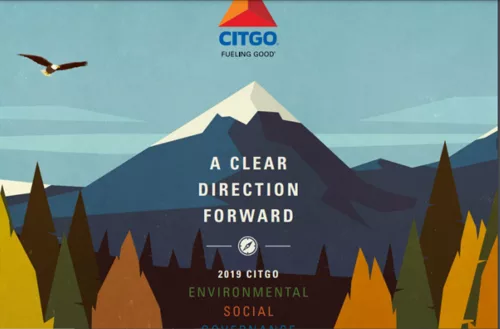 Summary
BrightLeaf has prepared CITGO Petroleum Corporation's ("CITGO") Corporate Social Responsibility ("CSR") for four years, so when the company decided to shift to Environmental, Social and Governance ("ESG") reporting for its 2019 progress in non-financial corporate measures, BrightLeaf adeptly stepped in.
While it was important to build on CITGO's most recent 2018 CSR report to ensure a seamless and impactful reporting transition to ESG, CITGO also wanted its first ESG report to reflect the company's emphasis on ethics and governance accountability. In addition to accurately reporting on the company's material societal and workplace impacts, BrightLeaf needed to develop a report that established CITGO's commitment to transparency and adherence to accepted global reporting standards and frameworks, while elevating and differentiating the CITGO brand.
Specifically, BrightLeaf needed to:
Develop a new theme, content and design concepts for the ESG Digital Report

Benchmark the report against major competitors using existing competitive industry standards

Update templates to collect and manage data from various CITGO departments

Conduct interviews with subject matter experts to update content and source specific new content related to the report theme

Propose new areas to cover in the report, expanding CITGO compliance with Global Reporting Initiative ("GRI") guidelines

Migrate the company's reporting standards from CSR to ESG
As experts in CSR and ESG reporting, BrightLeaf understood the importance of its Client's first ESG report: It would need to withstand relentless scrutiny while still conveying the right messages to key stakeholders about CITGO's ability to deliver positive societal contributions along with its financial performance. BrightLeaf partnered with globally recognized ESG advisors to provide CITGO with ESG reporting experts in the oil and gas industry, as well as professionals with access to proprietary tools and techniques to report on both GRI and oil and gas industry standards of the International Petroleum Industry Environmental Conservation Association ("IPIECA"), the industry association for advancing environmental and social performance.

The result: The BrightLeaf team delivered an impactful first ESG report driven by a strong Materiality Assessment of ESG elements, a GRI reporting standard. From this Assessment – borne out of a 45% survey response rate from internal stakeholders – the team developed a Materiality Matrix that defined the material topics reflecting CITGO's significant ESG impacts. This data collection led BrightLeaf to confidently develop this year's report theme, "A Clear Direction Forward." Now CITGO can use the Materiality Assessment and Matrix to revisit these material impacts as its operating context and business environment evolves, supporting its commitment to ethics and governance transparency. The company improved its reporting standards with this and with subsequent reports, truly giving it A Clear Direction Forward.

Client Information
Headquartered in Houston, Texas, CITGO Petroleum Corporation is a recognized leader in the refining industry with a well-known brand. CITGO operates three refineries located in Corpus Christi, Texas; Lake Charles, Louisiana; and Lemont, Illinois, and wholly and/or jointly owns 42 terminals, six pipelines, and three lubricants blending and packaging plants. With approximately 3,300 employees and a combined crude capacity of approximately 769,000 barrels per day (bpd), CITGO is ranked as the sixth-largest and one of the most complex independent refiners in the United States. CITGO transports and markets transportation fuels, lubricants, petrochemicals and other industrial products and supplies a network of more than 4,500 locally owned and operated branded retail outlets, all located east of the Rocky Mountains. CITGO Petroleum Corporation is owned by CITGO Holding, Inc.